NEURBIO 255: History of Neuroscience is taught in Winter Quarter by Professor Larry Cahill.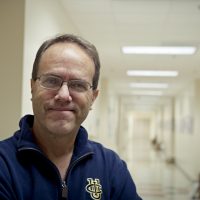 Repeatability: May be taken for credit 2 times.
Restriction: Graduate students only. Neurobiology and Behavior Majors only.
Concurrent with BIO SCI N119.
Course Objective:
An overview of the conceptual and technical foundations of contemporary neuroscience from ancient times to the present. The subjects include synapses, neurons, brain organization, sensory, motor and regulatory systems, learning and memory, human brain function and dysfunction.
Sample Syllabus:
| | |
| --- | --- |
| # | Topic |
| 1 | Introduction: The Past is About the Present |
| 2 | Ancient Times to the Modern Period |
| 3 | Synaptic Transmission |
| 4 | The Neuron Doctrine |
| 5 | Organizing of Cortex |
| 6 | Understanding the Action Potential |
| 7 | The Concept of "Limbic System and Emotion": Great Concept, or Horrible? |
| 8 | History of the Retinal Image |
| 9 | Hemispheric Specialization |
| 10 | Brain Integration vs Segregation |
| 11 | A Historically Novel Idea: Moruzzi and Magoun 1949 |
| 12 | The Myth of Mirror Neurons |
| 13 | The Legacy of Scoville and Milner |
| 14 | A Personal Perspective on Brain and Memory |
| 15 | A History of Brain and Memory |
| 16 | In-Class Discussion |
| 17 | Student Presentation |
| 18 | Student Presentation |