Dr. Blurton-Jones-Interplay Between Blood and the Brain Impacts Alzheimer's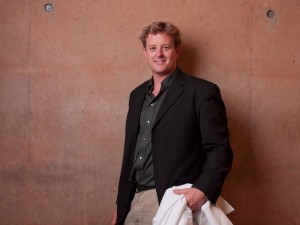 Alzheimer's disease (AD) is the leading cause of age-related dementia and is thought to be driven by the accumulation of a protein called beta-amyloid that aggregates to form amyloid plaques in the brain. Microglia, immune cells that reside in the brain, attempt to remove the plaques, but in AD, their effort is unsuccessful. While many studies have explored the role of microglia in AD, very few researchers have asked whether a different set of immune cells called T-cells and B-cells, which reside outside the brain and play a large part in autoimmune diseases, might also impact AD.
To determine whether immune cells outside the brain play a role in AD, Mathew M. Blurton-Jones, Ph.D., professor in the department of Neurobiology and Behavior, and doctoral student Samuel Marsh, bred genetically modified Alzheimer's mice to lack three key immune cell types: T-cells, B-cells and NK-cells. Six months later, when the brains of these mice were compared to those of Alzheimer's mice with intact immune systems, they found a more than twofold increase in beta-amyloid accumulation.
To understand how the loss of these immune cells was increasing beta-amyloid, Professor Blurton-Jones and Marsh examined the interactions between these peripheral cells and microglia within the brain.
"We found that in Alzheimer's mice with intact immune systems, antibodies – which are made by B-cells – accumulated in the brain and associated with microglia. This, in turn, helped increase the clearance of beta-amyloid," Marsh said. To further demonstrate the importance of these immune cells, the researchers transplanted healthy bone marrow cells back into the mice. Four months later, the antibodies could again be found in the brain and beta-amyloid levels had been cut in half. This study therefore suggests that the peripheral immune system could have a far greater role in Alzheimer's than previously thought.
Other researchers that contributed to this work were: Edsel Abud, Anita Lakatos, Alborz Karimzadeh, Stephen Yeung, Hayk Davtyan, Gianna Fote, Lydia Lau, Jason Weinger, Thomas Lane, Matthew Inlay, and Wayne Poon.  Results from the study can be found in the online edition of Proceedings of the National Academy of Sciences.