Remembering Professor Norman M. Weinberger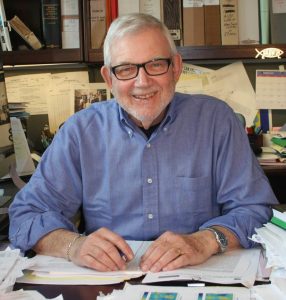 It is with great sadness and heavy hearts that we inform you of the passing of our colleague Professor Norman M. Weinberger, who succumbed to lymphoma on February 14, 2016. Professor Weinberger was a pioneering faculty member at UCI, joining Professor James L. McGaugh in the Department of Psychobiology at its founding. Professor Weinberger was influential in transforming the School of Biological Sciences into the preeminent institution it is today and will be greatly missed.
Professor Weinberger received his Ph.D. in Psychology from Case Western Reserve University in 1961. After working as a postdoctoral researcher at UCLA, he was recruited in 1965 to join what is now the Department of Neurobiology and Behavior. His research focused on understanding the generation and representation of information that underlies behavioral memory. Professor Weinberger was particularly interested in the storage of sensory information, and he uniquely combined sensory physiology with the study of learning and memory. He had a profound impact on the field of neurobehavioral research, and during his distinguished research career, he garnered many honors and accolades from his colleagues at UCI and from around the world.
 Over the past five decades, Professor Weinberger served in many roles at UCI including as chair of the department and as interim dean of the school. He was also one of the founding faculty members of the Center for the Neurobiology of Learning and Memory. Whether it was his passion for instructing our students or his vision and commitment to the CNLM, department and school, his influence and legacy will be felt for many years to come. A proven leader, respected mentor, and great colleague and friend, Professor Weinberger never hesitated to help a student in need, or provide expert advice to anyone who asked. His passion for science and debate will be greatly missed. 
Professor Weinberger is survived by his wife Jacquie, and their seven children, Amy, Linda, Eric, Tami, Jenny, Lisa, and Andrea.
Several months ago Professor Weinberger's daughters launched a campaign with LLS to generate a $100,000 grant to honor their dad.  It is the hope of his family that the grant can help aid in finding a cure for the horrid disease that took Professor Weinberger's life. The Weinberger family is over halfway to their goal. For more information on the campaign, follow the link.